Barca star Gavi could miss Euro 2024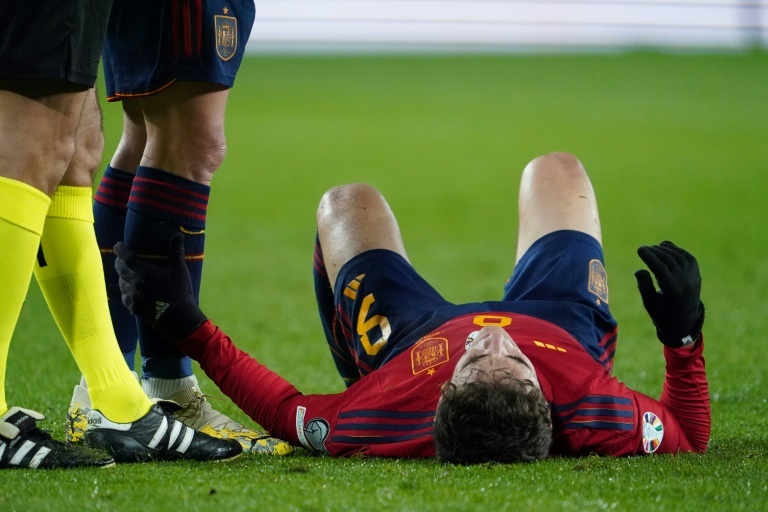 Another setback for the Spanish national team in the form of an injury. Gavi had to leave the field of play after the halfway point of the first half and the Barcelona midfielder put his hand to his right knee, making obvious gestures of pain. According to 'SER', everything points to a ruptured anterior cruciate ligament in his right knee.
Georgia caused problems for
Spain
, who did not dominate as effectively as they did in the first leg. The sturdy Georgian defence left no gaps at the back and 'La Roja' struggled to create dangerous chances. As if that were not enough, past the midway point of the first half,
Gavi
went to ground. The midfielder put his hand to his right knee, which he hurt in a bad turn and showed signs of pain.
The
Barcelona
player tried, but in the end, he had to leave the pitch and make way for Sancet. A serious setback both for Spain and, above all, for Barca. According to 'COPE', the first scans reveal that it could be a serious injury, although he will have to undergo further tests.
The Catalan giants were once again hit by the well-known 'FIFA virus' and, once again, with one of the key figures in the starting eleven. A few days ago, Ter Stegen had to withdraw from the German national team due to back problems. This possible absence, if possible, is even more serious, as the 'cule' team is not short of midfield players and Frenkie de Jong, although he has already trained with the group, does not seem to be at 100% or with the necessary playing rhythm for a match of this level with his team.
On returning from the dressing room, the alarm bells went even louder. So much so that Ferran Torres, when he scored Spain's 2-1 goal, picked up a shirt of the injured Gavi and showed it to the crowd, in a clear sign of dedication to what, a priori, could mean a serious injury.
'Cadena SER' reported shortly afterwards that the Barcelona player has almost certainly ruptured the anterior cruciate ligament in his right knee and will therefore miss the rest of the season, as well as the Euro 2024. Furthermore, 'RAC1' went into more detail on the issue and revealed that the Spanish Federation itself had already informed the Catalan giants.